The initial Interview section, which is a compliance interview serves as a permanent folder for current and future registration and other documents. Users are requested to complete the Initial Interview section by answering each question.
It is important to answer all of the Initial Interview questions as fully as possible and to upload the requested documentation. Please, keep all the responses to our questions in this area of the program. This will allow us to keep permanent records all in one place for the convenience of both.
1. Select the applicable entity from the list of Entities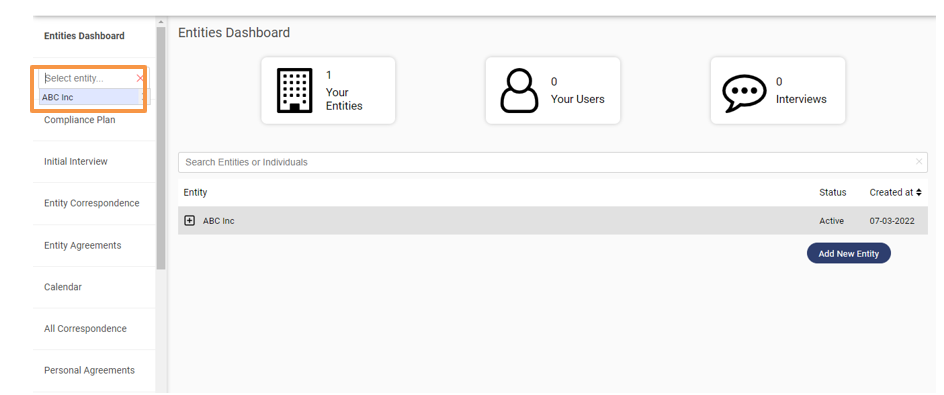 2. Navigate to Initial Interview.
3. Fill in the initial interview questions applicable to you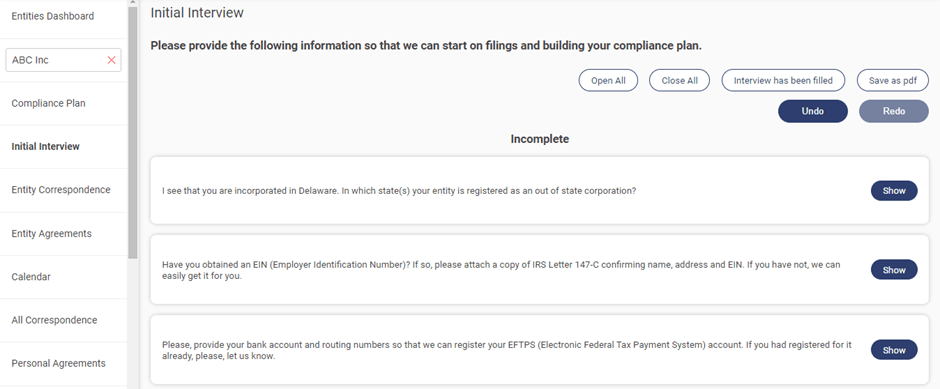 4. You can upload supporting documents as mentioned in each interview question if necessary. Click On "Browse/Drag to Upload"
(Navigate to a particular folder on your desktop/laptop to attach the required files)
5. If you have any queries regarding the Initial Interview questions you can use the email strings attached to each question to seek an answer from IfindTaxPro Team.
6. Refer to Point No 4 How to use Email Strings – (User Related Queries/Concerns)?
7. Users will be intimated by email notification on receipt of any correspondence from our support team. You will also receive all the messages to your email account and will have the convenience to view and respond to them directly from your email account. Feel free to respond to the emails coming from our system
8. After you have filled in all the answers to the Interview Questions, proceed to submit the details to our team using the Action Button "Interview has been filled"
9. You can save a copy of all your responses in PDF Format using the action button "Save as PDF"
10. If the iFindTaxPro Team requires additional questions, it will be intimated through email notification. Click on the link provided in the email to answer further interview questions
11. You will be redirected to our website, Login with your credentials.
(Refer: How to Log In to our Website)
12. After you have filled in the questionnaire, click on the action button "Interview has been filled"
13. IfindTaxPro Team will mark the questions as COMPLETE as soon all the necessary details have been received by our Team.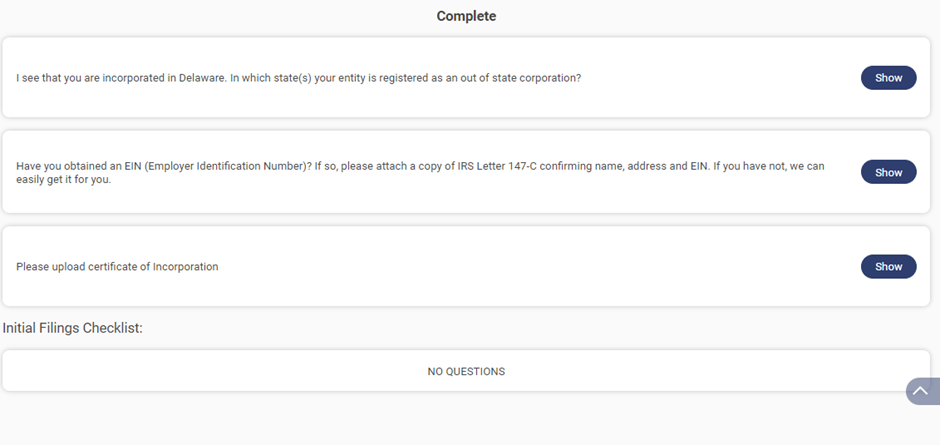 14. After all the interview questions are duly submitted and marked complete by the IfindTaxPro team, a PDF copy of the same would be sent to your registered email id for your reference.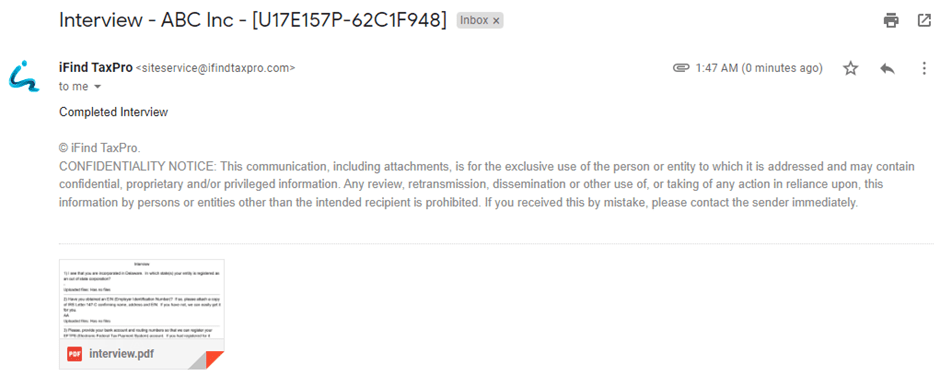 15. Once the initial interview process is completed your entity status would be changed to "Active"